This is a partnered post written by me on behalf of Revlon. All opinions are 100% mine.
Normally I don't post about cosmetics and makeup here on my blog but today, I wanted to do something a little different. As a work at home and home business owner, I often don't get all-dolled up just to work from home. I was also finding myself in a "rut" and doing the same-old look every time I put my makeup on.
I was asked to participate in the Revlon Expression Experiment and jumped at the chance! As a woman who just turned 45 years old, I needed a new look and some help accomplishing it. The great folks over at Revlon sent me their Revlon Expression Experiment Kit and inside it I received a very helpful instructional booklet with a variety of looks for to me to choose from, along with a 3-piece nail polish set, 2 lipstick, 1 lip gloss, makeup primer and 2 nice palettes of eye shadow. Wow, lots of goodies to play with!
What I really like about the products that Revlon sent to me is that the kit included almost everything I needed to change-up my look (minus mascara and eyeliner). With the summer heat we have been experiencing here on the east coast, I was rarely even wearing makeup as it felt heavy on my face or ran/melted in the heat. I was excited to try out the Revlon products as my adult daughter raves about them to me all of the time.
Revlon is a great company for empowering women because their products are high-quality, vast in the colors and variety of products and I love that they are all affordable. These days, I want product that delivery performance and I want them at a price that fits within my budget. If you are like me, Revlon is the answer!
Note
: Some of the photos in this post will have a yellow tint due to the special lighting I have in my bathroom. The photo to the left shows me just with both primer's on...no other makeup. Please don't scream, I don't look good without makeup!
After my shower I decided to try out the Revlon Photoready Perfecting Primer. I usually don't use a primer but after applying the Revlon one, I will now be a faithful primer user. The primer just glides across your skin and it doesn't clump up or feel heavy at all. I have dark circles under my eyes so I added the Revlon Photoready Eye Primer + Brightener underneath my eyes and onto my eye lids. I did have some problems using this product because it's in a tube that you twist to get the product to come up and into the application brush. I had to click and turn it about 20 times before it finally loaded into the application brush. Once it did, I applied it and then smoothed it underneath my eyes and on my eye lids with my fingertips. (I found that to be better than the brush). It did a wonderful job at lightening my dark circles and it made eye shadow application easier.
I then decided to use the Revlon "Inspire" Eye Shadow Compact for my eyes which includes 4 different colors of eye shadows. On the back of the compact they have a diagram where each of the 4 colors go on your eyes so I followed that and applied all 4 of them. (one is a mint green, one is a turquoise, one is an ivory and one is a dark gray). I found the eye shadows to be fabulous and very easy to apply. They didn't clump up, didn't get all over my eye lashes or smear during the application process. I admit, I normally do not wear colors like these day-to-day but I would certainly wear them to go out at night. With that said, using this compact made me feel like I needed to change up my daytime look and since I have green eyes, the green eye shadows really brought out the green in my eyes. If you have green eyes, the "Inspire" compact is a must! In addition, I applied them at 7am in the morning and they were still going strong at 7pm later that night! yeah! Eye Shadows with staying power! You gotta love that! The photo to the right is my new "Daytime Look" and I think it looks fabulous!!!!
I normally do not wear lipstick or lip gloss unless it is for a special ocassion or an evening out with hubby (aka. date night with my hubby). Usually lipsticks and lip glosses bug me as I usually need to keep reapplying them numerous times during the day. With that said, I love lip glosses that are not sticky but often times it is really hard trying to find them.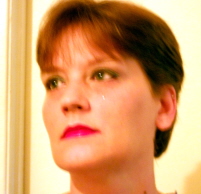 Revlon sent me a lip gloss that is in medium shade of red, with an orange under-tone to it. When I first saw it, I thought ewwww, that shade is NOT for me! However, I was willing to try a new lip gloss and in a shade I would normally stay clear of. The lip gloss has your classic foam tip applicator and is really easy to use. I put it onto my lips and only had to coat my lips once as it gives you great coverage. I didn't need to use any type of undercoat or lip liner with it. What was really nice about this lip gloss other than the coverage is that it was NOT sticky! You didn't feel like your lips were sticking together. In addition, I wouldn't normally buy this shade but now that I tried this shade of red, I think I looked pretty good in it! hahaha! I definitely need to rethink red lip gloss for the future! (side note: hubby loved the red lip gloss on me!).
The photo on the left is my new evening-time look! I used the Revlon Face Primer, Eye Primer, the Bombshell Eye Shadow Compact (medium gray, dark gray, yellow and ivory eye shadow colors) and the red lip gloss that I just told you about.
I am having a LOT of fun with my new Revlon Expressions Experiment Kit and trying out all kinds of colors and looks that I normally wouldn't of tried. I love that Revlon has something for everyone in the cosmetics lineup. You can go for the classic neutral shades, pastel shades or go for the bold and daring shades. Another great thing is that Revlon's cosmetics are ageless! My 27 year old daughter can wear them, I (at age 45) can wear them and even my 66 year old mother can wear them! yeah!!!
Revlon also sent me a 3-piece nail set including: a base coat, a pretty creamsicle orange nail polish and a clear top coat. I didn't get time to play with that just yet but I am thinking about putting it on my toes! I love fun and funky colors like that on my toes during the summer when I am wearing a lot of open-toed sandals and/or going barefoot. How about you? Like the fun & funky shades on your toes in the summer?
I would love for my readers to join the Revlon Expression Experiment Facebook Application over on Facebook! It is a lot of fun and will give you a LOT of ideas on how you can get out of your makeup rut and get a new look! Yes ladies, you can do these fun makeup looks all by yourself and do it all in the comfort of your own home!
Do any of you love Revlon cosmetics? If so, what are some of your favorite products? I would love to hear about your makeup look and how you will be changing up your look this hot & steamy summer of 2012! Please feel free to leave me some comments below. I love to hear from my readers!