This is a Sponsored post written by me on behalf of
Comfort and Harmony
. All opinions are 100% mine.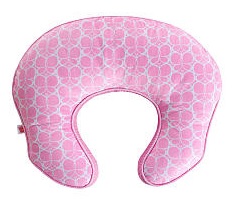 We found out last month that our daughter is expecting child #2 in about 6 months and we are really excited to become grand parents again. Our first grandchild was born 4 years ago and since then...we have been waiting for this exciting news!
We are very hands-on grandparents and spend a LOT of time with our grand daughter. She is over at our house at least 4 times a week and it will be no different when grandchild #2 arrives in early Fall. With that said, I have already been out shopping for new baby supplies and products.
Our daughter will again be breast feeding the new bundle of joy and I am thinking about getting her the mombo nursing pillow that I have been hearing a lot about. I saw a bunch of positive reviews on this infant nursing pillow online and I think it will be the one that I purchase for her to use.
The nursing pillow has a 2-sided design called FirmaSoft and each side offers a different nursing experience. One side is perfect for when you are breast feeding the baby and the other side is perfect for when the baby is just lounging around on your lap. Current moms are stating that it's a really comfortable baby nursing pillow and they love that it comes in 3 styles (standard, deluxe and nude).
Another thing the moms are liking is that you can buy a lot of different covers for the nursing pillow to fit your mood and style. I bet they have one that would coordinate with my daughter's nursery style pretty nicely. I like the idea of having several nursing pillow covers because when one is dirty, you will have a back-up one that is clean.
I learned that the Mombo nursing pillow is the only one that offers a vibration action which I would imagine helps to soothe and calm a fussy baby. Our last grand baby wasn't fussy at all, but that is a great option to have in a nursing pillow for sure.
I spotted the Mombo pillows at Toys 'R Us and at Babies 'R Us...have you all seen them? Have any of you used them? I would love to hear your thoughts about them!
You can follow
Comfort & Harmony on Facebook
and/or follow Comfort & Harmony on Twitter for additional information and to learn more about this wonderful product.