This is a Sponsored post written by me on behalf of Walmart. All opinions are 100% mine.
It's that time of year again...yes, you know what I am talking about!!! It's time to hit the stores and do our back to school shopping because many children will be going back to school sometime this month! Wow, did I really say that? Yes I did!!! Summer just flew by and it's time to get serious again!
Many of us shop for our back to school supplies at Walmart and while we are there picking up the kid's clothing, shoes, notebooks, pens, pencils, backpacks, binders, paper and all of that jazz...it is import to buy Duck Tape at Walmart too! Why you might ask? Well, Duck Tape® will come in very handy throughout your child's school year!
I love that Duck Tape® comes in various widths, colors and can be used for a wide variety of school projects and crafts. No other tape comes in this many colors and holds your projects together like glue (but without all of that liquid mess...gotta love that).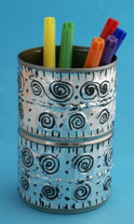 Before the kids even get back to school you can sit down with them and do some "back to school" craft projects like this super cute pen & pencil holder that I found online! All you need is your handy dandy Duck Tape® in the colors that you would like and wrap them around an empty soup can. So clever! I found this project online over at Danielle's Place and she has several fabulous craft projects over there that your kiddos can enjoy! I think it would be cute to buy some plain solid color 3-ring binders and let the kids decorate all those binders too! They could really get creative and have some super fun using the Duck Tape®.
Since I am a big time scrapbooker, I am going to head to Walmart and pick up some Duck Tape® too and use it to decorate the front of a scrapbook that I want to make for my little grand daughter. I am thinking about making it pink and brown striped and then applique some lacy flowers on top. I think that would look cool.
Are you looking for a little creative and crafty inspiration? Well, you can follow @DuckBrand over on Twitter for plenty of ideas!
How many of you love Duck Tape® and if so...what kind of projects do you envision creating with it? I would love to hear all about it!