This is a Sponsored post written by me on behalf of Bulbs. Dig, Drop, Done. All opinions are 100% mine.
For the past 5 months hubby and I have been spending every weekend over at our new home working on various remodeling and landscaping projects. We purchased this 60+ year old home because it has charm, but it definitely needs a lot of work!
The past few months we have been doing a lot of reading and research on landscaping ideas, vegetable gardening and flower gardening. Wow, so many great ideas out there for beginners like us! A great site to learn more about lanscaping and flower gardening is Curbside Chaos.
Just recently Curbside Chaos held a Yard Makeover and one lucky winner won a yard makeover plus a visit from Taniya Nayak and wow...what a fabulous backyard makeover! I love that the home owner chose some lillies and gladiolas for her backyard which are always pretty. You need to check out the video at http://youtu.be/MqeAi_su2ok. If I would ever win a $5,000 yard makeover, I would get a white trellis, white gazebo and plant some slowers around them, I think it would look pretty.
For every Twitter share (just a quick and easy Tweet) ~ Dig, Drop, Done with the hashtag #CurbsideChaos the company will donate $1.00 to Rebuilding Together, the nations leading non-profit that works to preserve affordable home ownership and to revitalize older communities.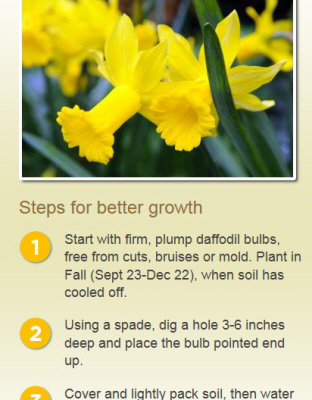 I wanted to get busy with our Fall flower bulb planting so I decided to use their Garden Guru Tools (bottom left side of the page) which is broken down by country and then your state/planting zone.
I live on the East Coast and used the tool as I want to plant some flower bulbs now that will bloom in the spring. I learned that Daffodils are a great bulb to plant now for May blooming. They also give you some tips and planting instructions too!
I need to get my bulbs into the ground before we have our first frost up here in the North East part of the country.
I would love for you to go over and use the tool too and tell me what kind of bulbs you would like to plant this fall for blooming in Spring?
Oh, I have a tip for you today, bulbs are not just for gardening! Many bulbs can be planted in a large container and placed indoors! Bulbs are very versatile and you can't plant them all around your home. There are flowers that do well in full sun, part sun and some that even do well in the shade. That is very cool to know since we have big areas of all three around our house!
Every spring we give potted bulbs to both of our mothers for the Easter holiday and another set for Mother's Day in May. Our moms look forward to getting their potted bulbs every year!
I would love to invite you to visit www.digdropdone.com to learn more and check out the ladies! I really enjoy Evelyn because right now we have a pesky groundhog problem in our backyard and I need to plant some things to keep those groundhogs away. Evelyn is a wife and mother of 3 and lives in the country just like me. Which of the 3 ladies do you identify with? She recommends planting daffodils and calla lillies to keep pesky critters away. That is good to know!
Thanks for reading my post today and I hope you check out Curbside Chaos and Dig Drop Done. They are really cool sites!